Choosing The Suitable Furnishing Fabric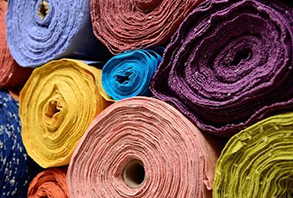 Choosing the right furnishing fabric for your project may seem a bit daunting but if you know a few things before you get started you can choose with confidence.
You can generally use upholstery fabrics for curtains also, the only time this would not be the case would be when the fabric is too heavy to fall/pleat correctly, in our current range all upholstery fabrics can be used for curtains.
You can generally use curtain fabrics for cushions also, some heavier cottons I would even say you could use for kitchen chairs etc as they can be spot cleaned but they will not last as long as a fabric that is designated upholstery.
FABRIC COMPOSITION:
COTTON/ LINEN:
Cotton is a natural fibre, quite matt in appearance and will hang very well as curtains and lend itself very well to cushions and the likes as it can usually be washed. Of course I would never recommend washing curtains but a cotton can be spot cleaned.
Cotton is very easy to work with and is a good choice for beginners projects.
Beware the shrinkage! Allow yourself 5% shrinkage and always pre-wash your fabric if you're planning to wash it in future.
SILK:
Silk is a natural fibre and is a beautifully luxurious fabric with a dull sheen but requires some care.
When using silk for curtains use a good lining to protect against sun damage as it will fade easier than other fabrics, generally they will be interlined with an extra thick lining for body.
Probably not the best choice for cushions due to its delicate nature but I have been unable to resist in the past and with careful cool hand washing they have lasted me quite well.
Silk generally won't shrink.
VISCOSE:
Viscose is derived from plant sources like wood pulp and then transformed to fibres - it has a beautiful drape and silk like lustre but is much cheaper.
It's generally a good all rounder as it's breathable like cotton so nice for cushions etc and as long as it is graded UPH will do a fine job for upholstery.
Viscose can shrink slightly and sometimes can be a bit "bouncy" to work with but if made up correctly it is a beautiful fabric.
POLYESTER:
Is a synthetic fabric, essentially a plastic making it extremely versatile and it generally has a sheen to it.
It is frequently washable and doesn't shrink - making it a good choice for either cushions, curtains or upholstery.
It is less breathable than most of the other fabrics so you may find you get a little warmer on a polyester upholstered couch or with polyester cushions.
If made into curtains you can nearly guarantee it will last for years as it won't shrink or fade like some of the natural fibres.

Most fabrics you see will be some sort of mix of the above fabrics giving them slightly different attributes. For example: Polyester is frequently mixed with cotton to give it the firmer handle of a cotton and dull the polyester sheen with the longer life span/ lack of shrinkage of a polyester; Viscose is frequently mixed in with other fibres to add lustre and drape.