Methods To Clean Various Kinds Of Blinds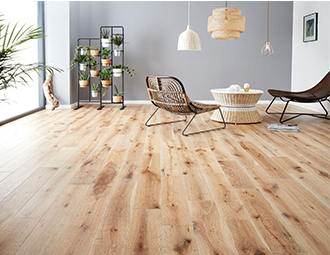 Moreover, its aesthetic craftsmanship and distinctive beauty help it keep pace with the current trends. But all in all, wood floorings are more than that. There are also other crucial benefits. Here are those:
Allergen Free
Wood floors are a friendly choice, particularly for a house where there live people who have allergies. Being easy to clean, it is easy to get rid of the dust build-up on the floor. Furthermore, dust can be outwardly seen in woods, making it easier to have it wiped off.
Better Acoustics
When utensils, or any material in your home, falls, wood floorings won't give you hard, screechy, irritating sounds. That is if it is properly installed. It then would help you focus more on what you are doing. It provides better acoustics.
Budget Friendly
Wood floorings are often mistakenly deemed by many as something that can be afforded only by the rich. But this is not the case, as modern production methods have already enabled the manufacturing of wood floors that are available to all budgets. It makes wood floors a budget friendly choice.
Diverse Style and Material Choices
Much like the other floor types, there are diverse style choices of woods. There is this what people call, solid wood, which can be redeveloped or refurnished again and again. There is also this what people call, engineered wood, which is pre-finished, more stable, and easier to install. There are many other choices, of course. All you need to do is to look for a style and material that can match your preference or suit what you want for your home.
Easy Cleanup
Wood floors, much the same as some different floor types, are especially easy to clean. Since the dust is visibly seen, you can simply remove it, by simply wiping it off or by using a dry mop or a sweep.
Gives Natural, High Quality Look
The beauty of a wood flooring lies in its simplicity. Though simple, it gives an elegant, high class, and an exquisite look to your home. The natural, high quality look it gives it tastefully enticing to look at. Moreover, it goes well will whatever decoration you'd want to use for your home.
Increases Your Home's Resale Value
Wood floors have the ability to look better and better as the years go by. That is the main reason why potential buyers ought to buy a house that makes use of wood floorings. It is simply ageless. So, immensely, wood floorings can be a great long-term investment, increasing your home's resale value.
Low Maintenance
Wood floors are low maintenance. A regular vacuum clean can already help retain its beauty. Scratches and dents can be aided by a simple sanding and refinish of the floor. Moisture, or water mark stains, on the other hand, can be avoided by just applying polyurethane finishes. And just like tiles, a damaged wood flooring can be utterly replaced with new pieces.
Provides a Warmer Feel
Essentially, wood floorings provide a warmer feel, when contrasted to stone, tile or concrete types of flooring. Furthermore, an under floor heating can be put under the wood, making it easier for you to make your house feel warmer.
Timeless Appeal
The best advantage of a wood floor is its timeless appeal. While many other flooring types go in and out of fashion, the natural appeal of wood floors can last for decades. What more, with proper maintenance, it can look better and better as the years go by.

Depending on the species of wood you choose, a properly installed and maintained wood floor could last far longer than carpet or vinyl. The look of wood can transform even a modest living space, adding warmth and richness not found in carpet.

The traditional touch loved by everyone which express a tactic of classic & royal touch to your house. The precious glossy and woody look will impress the final word of royal tradition. Curtains N More, the best wood flooring shop in Bangalore presenting you the most modern varieties of wooden floors for your interiors. visit our shop today and experience the loud word of tradition. Hurry to the shop and get worry free about your home.

You Might Also Like: 4 Things To Consider When Buying Curtains